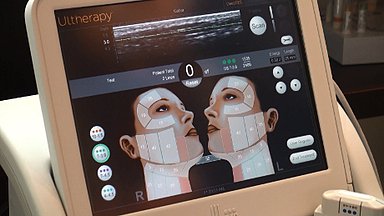 When it comes to looking dramatically younger and more beautiful, it's hard to beat the results of a cosmetic surgery facelift. Gone are the stretched-tight, obvious and artificial-looking facelifts of the past. Thanks to the combination of modern technology with the artistic skill of a qualified cosmetic surgeon, today's facelifts can provide a transformative, beautiful result with scarring that is virtually undetectable.
The proof is in the numbers. Facelifts remain one of the most popular procedures in cosmetic surgery practices, with more than 130,000 performed last year alone, according to the American Society of Plastic Surgeons.
While other cosmetic procedures such as laser facelifts, laser skin resurfacing, and chemical peels can all reveal younger-looking, smoother skin, there is no solution quite like the surgical facelift if you want truly impressive results. However, some skilled cosmetic surgeons are able to utilize a new, non-invasive treatment to enhance the results of a facelift even further—Ultherapy.
Ultherapy is fairly new to the cosmetic industry, although ultrasound imaging has been used for multiple applications in traditional medicine for decades. Using ultrasound technology, your cosmetic surgeon can visualize your skin in individual layers, allowing him to concentrate sound energy where it's needed the most.
Because your surgeon can use Ultherapy to access your skin so thoroughly and precisely, he is able to stimulate collagen production at the proper level for aesthetic enhancement. As your body produces more of the strengthening and firming collagen, your skin becomes smooth and lifted—all with no incisions or stitches required.
Depending on the condition of your skin, your general health, and your desired results, your surgeon will determine whether you would benefit the most from having Ultherapy before or after your surgical facelift procedure. Having it before the procedure may provide tightening results that influence the extent of the surgical intervention necessary. However, having it after your surgery can address any areas where you want just a "bit" more improvement. Your surgeon will be able to make the best recommendation for you.
At Southern Surgical Arts, our surgeons are skilled at using Ultherapy and surgical facelift in tandem to achieve the most beautiful results. Dr. Carey Nease and Dr. Chad Deal are both board-certified, award-winning surgeons with the artistic abilities and surgical technique to give you the beautiful results you desire. For more information about facelifts and Ultherapy, please call Southern Surgical Arts at 423-2666-3331 to schedule your FREE personal consultation.