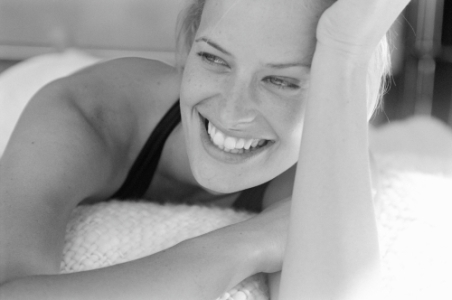 Want to look years younger without surgery, boost your self-confidence, and make a great first impression all at the same time? Facial rejuvenation is one sure-fire way to make a big impact without committing to invasive surgery. From treating crows-feet to lip lines, there are many ways your cosmetic surgeon can improve your appearance and subtract years. Some patients decide to take their "new look" a step further, by adding a new smile.
Non-surgical facial rejuvenation and cosmetic dentistry have long been partners in helping patients look healthy and youthful. Thanks to Botox, fillers such as Juvederm, and laser skin rejuvenation, Southern Surgical Arts is able to offer numerous options to tighten, smooth and add a healthy glow. We can also add beautiful fullness to thin lips and minimize lip lines caused by aging and sun damage.
However, some of our patients find that they would like to take their facial rejuvenation a step further and correct stained or crooked teeth so that their smile further enhances their appearance.
If you have always dreamed of a movie-star smile, cosmetic dentistry may be the answer. We frequently refer patients who want to improve their smiles to Dr. Drew Shabo. Dr. Shabo is one of Chattanooga's finest cosmetic dentists and an expert at helping patients achieve the smile of their dreams.
If you'd like to learn more about your options for a more beautiful smile, keep reading for a Q & A with Dr. Shabo!
1. What are the most common concerns you hear from patients during initial consultations?
I would say that most people don't like how dingy their teeth look or how worn and short they appear, due to chipping and cracking.
2. What are some of your most popular procedures and treatments?
Veneers are the most common way to straighten, strengthen, and whiten a patient's smile, all while making them look 20-30 years younger! Typical cost per veneer is $1200-1500. Anything less than that usually means poor quality of materials, or a dentist that may not be trained in proper technique to preserve the patient's tooth structure. It all comes down to how a dentist has been trained. You need to find a dentist that has a long track record of successful conservative veneer cases and not just crown preps.
3. What are some habits patients can incorporate to keep their current smiles as beautiful as possible?
We recommend getting your teeth cleaned every 3 months. Most patients are led to believe that 6 months is just fine. However, this idea has been generated by the insurance companies to save them money, and not necessarily keeping your mouth as healthy as it should be. Everyone knows that gum disease is linked to a myriad of health issues.
4. How have your patients' improved smiles impacted their life, beyond just looking more beautiful?
We hear stories all the time of getting a job promotion because of their added confidence, or finding a new love, to just smiling more when they haven't for years. Their friends typically say that after they got their smile back, they appear happier with life and let their emotions come across their lips with more confidence.
5. What are some common misconceptions you encounter about cosmetic dentistry?
I hear patients say that they don't feel anything can be done to help their smile, or that it can't be made affordable, or that it will take a long time. But we typically do these procedures in just 2 visits about 2 weeks apart, and their smile will look amazing after the first visit! It is an investment but lasts a lot longer than a new car will, and you get to use it every second of every day!