Melasma
Conveniently located to serve the areas of Calhoun, GA, Chattanooga, TN, Ooltewah, TN, Franklin, TN and Blueridge, GA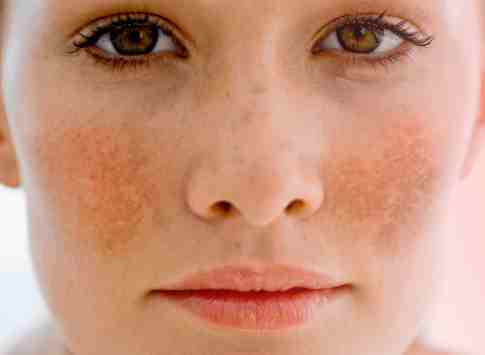 Melasma is a common, usually chronic, skin condition. It primarily affects the face, causing brown or grayish-brown symmetrical patches on the forehead, cheeks, nose bridge, upper lip and/or chin. It sometimes also appears on the forearms and neck, because these body areas are often exposed to the sun.
Melasma usually appears in healthy adults in their 20s to 40s, but it can occur at any age. It affects both men and women, although it is much more common in women. Pregnant women develop melasma so often, it is sometimes called "the mask of pregnancy," although in these cases the condition is usually temporary and goes away after delivery. Melasma is also more common in those who have naturally brown skin – as opposed to fair or black skin – and people who tan easily.
You may be genetically predisposed to melasma, as more than a third of patients report the condition runs in their family.
What Triggers Melasma?
Long-term exposure to the sun.
Hormonal changes such as those that occur during pregnancy.
Hormone treatments such as birth control pills or devices or hormone replacement medications.
Hypothyroidism (low thyroid levels).
Some toiletries, cosmetics, scented or deodorant soaps and certain medications, which can cause a phototoxic reaction that results in melasma.
Because it mainly affects the face, melasma often makes people feel self-conscious about their appearance.
Reducing the Risks and Symptoms
The easiest way to reduce risk of melasma and its effects is to protect your skin from the sun.
Use sunscreen every day, and wear a wide-brimmed hat when outdoors. Professional skin care products containing kojic acid, azelaic acid, hydroquinone, retinol, antioxidants and high sun protection factor (SPF) are recommended along with a combination of the treatment options below to reduce the short-term or chronic symptoms of melasma. Schedule a free consultation to discuss the treatment option that is right for you.
Melasma Treatments Offered by Southern Surgical Arts
HALO™ Laser Treatments
HALO™ is a one-of-a-kind hybrid fractional laser system that is customizable to remove surface and sub-surface facial skin damage using two targeted lasers simultaneously. The HALO laser is now the gold-standard in reducing Melasma discoloration and improving skin tone and texture with little or no downtime in just one or two treatments.
Melasma Peel/Mask
This moisturizing mask base gently treats dry skin and provides for great absorption of the active ingredients necessary to lighten/correct melasma. The mask is applied for several hours, depending on your skin type/color. After removing the mask, your skin will be red and react like a typical chemical peel with sloughing for several days. These custom treatments have proven to be very effective.