Tattoo Removal
Conveniently located to serve the areas of Calhoun, GA, Chattanooga, TN and Ooltewah, TN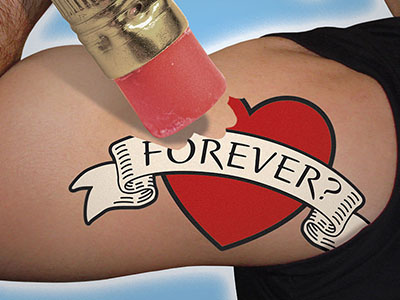 "It seemed like a good idea at the time…"
Tattoo regret is common. If you feel that your tattoo is preventing you from getting the job you want, or if it reminds you of how much your life has changed, there is a new laser treatment that can erase that tattoo once and for all.
PicoSure®
PicoSure® is an aesthetic laser that was developed for removing tattoos. Gone are the days when tattoo removal was more painful than getting a tattoo. And, because PicoSure is more efficient than older technologies, fewer sessions are required to remove your tattoo which also makes this method far less costly than previous methods.
Works best with black, blue, green and purple tattoos. It is not recommended for red tattoos.
Requires three to five sessions spaced four to six weeks apart to remove most tattoos.
May cause mild discomfort, similar to getting a tattoo. If desired topical anesthetic can be provided.
Obliterates the ink, shattering it into tiny particles that are then absorbed by the body.
Is most effective with fair-skinned patients. Dark-skinned patients may experience some loss of skin pigmentation which can be temporary.
Your friends at Southern Surgical Arts are proud to offer cutting edge technologies to our patients. Now you have access to the best technology available for laser tattoo removal. Don't let your tattoo hold you back from new opportunities. Leave no trace behind with PicoSure.
Recent Before and After Photos
To view more before and after photos, please visit our gallery.