Arm Lift
Conveniently located to serve the areas of Calhoun, GA, Chattanooga, TN and Ooltewah, TN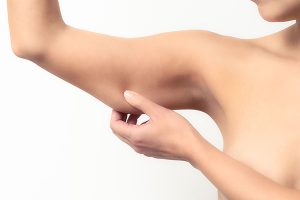 After achieving a weight loss goal, or sometimes through the course of aging, patients are left with loose skin and stubborn pockets of fat in the upper arm area. Most affected patients would avoid wearing sleeveless shirts and may have trouble wearing shirts with fitted sleeves. They may also avoid recreational activities that would involve movement where the appearance of their arms would be visible.
Goal of an Arm Lift
After an arm lift, your arms will be tone and slim.
An arm lift, or brachioplasty, is a cosmetic surgery procedure that involves removing loose or sagging skin, and commonly also liposuction to remove any excess fat deposits. Afterwards, the patient will have a more youthful appearance and will be able to resume normal activity without any movement or clothing restrictions.
Surgical Technique
In many cosmetic surgery procedures, the surgeon can work from a hidden entry point and completely conceal the scar. Because the goal with an arm lift is to remove excess skin in an area that is completely exposed, scarring is unavoidable. For most patients, this is an acceptable consequence for getting rid of the excess skin.
Who is a Good Candidate?
Women and men at or near ideal body weight
Women and men who have achieved significant weight loss
Age 18 to 75
Non-smoker
Generally in good health
Desires aesthetic enhancement to remove loose skin in upper arms
How Much Does it Cost?
The estimated cost of an arm lift at Southern Surgical Arts begins at $6,500. Your actual cost will depend on the details of your procedure, determined by your physical condition. This price includes the surgeon's fee, anesthesia costs, facility fees, supplies, and all routine follow-up visits.
Recent Before & After Photos
To view more before and after photos, please visit our gallery.