Injectables & Fillers for Men
Conveniently located to serve the areas of Calhoun, GA, Chattanooga, TN and Ooltewah, TN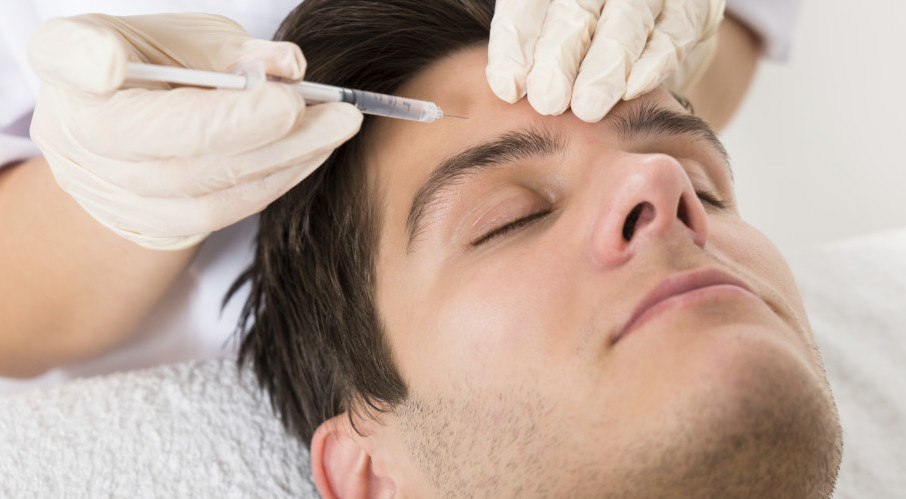 At Southern Surgical Arts, we offer a variety of injectables, including Botox & Dysport. Dr. Deal, Dr. Gardner and Dr. Kluska are experts at listening to your concerns, evaluating your aesthetic needs, and then recommending a custom treatment plan that is unique to you because they do not believe that one size fits all. They partner with many injectable companies to bring the best results to you.
Trust in their experience, skill, and pursuit of the latest cosmetic advances to achieve your natural beauty.
BOTOX Cosmetic
BOTOX® Cosmetic is a simple, non-surgical, physician-administered treatment that can temporarily smooth moderate to severe frown lines between the brows. Available to people between 18 to 65 years of age, it is the only treatment of its type approved by the Food and Drug Administration (FDA).
BOTOX is administered through a few tiny injections in one 10-minute treatment.
Within days, you'll notice improvements, which can last up to four months. To date, more than one million people have been treated with BOTOX, manufactured by Allergan.
Dysport
Dysport® is a newly FDA-approved treatment for facial lines and wrinkles. It works by relaxing the facial muscles that pull on the skin creating crow's feet and lines on the brow. It is administered through a few tiny injections in one 10 minute treatment. Within days, you'll notice improvements, which can last up to six months.
Facial Fillers
Collagen is a key structural component that keeps skin youthful looking and smooth. As you age, your body's collagen production decreases and you may begin to see wrinkles.
At Southern Surgical Arts, we use a variety of cosmetic dermal facial fillers to restore volume and fullness to the skin. These fillers correct moderate to severe facial wrinkles and folds (such as nasolabial folds), the lines that develop between your nose and the corners of your mouth. The fillers we use can also be applied to the lips for a more youthful look.
We use several types of facial fillers: JUVÉDERM®, Sculptra® Aesthetic and Perlane®. All are safe and proven to work. JUVÉDERM, and Perlane are cosmetic facial fillers made of hyaluronic acid, a natural substance that already exists in the human body. Results are instantaneous and last 6-12 months. Sculptra Aesthetic is made from poly-L lactic acid, which is a long-lasting filler that gives you subtle results over time.
JUVÉDERM
JUVÉDERM® is a gel of smooth consistency made of hyaluronic acid—a naturally occurring substance in your skin that gives skin volume and hydration. We use JUVÉDERM injectable gel by easing it under your skin to instantly restore your skin's volume and smooth away facial wrinkles and folds, like your "smile lines" or "parentheses" —the creases that run from the bottom of your nose to the corners of your mouth.
JUVÉDERM provides a smooth, natural look and feel—so everyone will notice, but no one will know! In fact, studies show superior results of JUVÉDERM compared to a collagen-based dermal filler. JUVÉDERM\ injectable gel is the first FDA-approved hyaluronic acid dermal filler that is proven to be safe and effective for persons of color.
Sculptra Aesthetic
Sculptra® Aesthetic is a new type of facial injectable made from poly-L-lactic acid that helps correct shallow to deep facial wrinkles and folds that appear with aging by gradually replacing lost collagen. The main ingredient is a biocompatible, biodegradable synthetic material that has been used by physicians for decades.
Not an overnight miracle, Sculptra Aesthetic takes a different approach to improving lines and wrinkles.
Applied through a series of injections over a three-month period Sculptra works within the deep dermis, reinforcing your skin's structure to replace lost collagen. This reinforced collagen structure provides a foundation that gradually restores the look of fullness of your shallow to deep facial wrinkles and folds that has been depleted over time. The result? Sculptra Aesthetic is different because it gradually and subtly corrects these facial wrinkles. This can provide a refined, more youthful looking appearance that can last up to two years.
RADIESSE Volumizing Filler
RADIESSE® Volumizing Filler immediately provides the volume and lift needed to diminish the signs of aging because of the calcium-based microspheres and gel that comprise the product. But what's unique about RADIESSE Volumizing Filler is that it acts as a scaffold under the skin, providing structure and stimulating your own natural collagen to grow. This process continues for several months, which extends the initial effect of RADIESSE Volumizing Filler. Best of all, the natural results are clinically proven to last a year or more in many patients.
Who is a Good Candidate?
Men
Ages 18 to 65 (or older if you are healthy)
Non-smokers
Generally in good health
Desires cosmetic improvement in facial features
How Much Does it Cost?
Costs will vary based on treatment. See our non-surgical treatment pricing page for more details on Southern Surgical Arts's MedSpa services. Ready to discuss how injectables and/or fillers can help you achieve your cosmetic goals? Request a complimentary consultation with one of our providers.