Imagine you could once again fit into your favorite wrap dress, or go down a full waist size in your pants. How about slim your arms and legs so that tight sleeves and skinny jeans look more flattering? Who wouldn't want to look trimmer in their swimsuit and fit into clothing that's currently too tight?
Sometimes achieving these goals requires more than dieting and exercise—stubborn fat deposits in areas like arms, thighs, belly and love handles can't be "spot reduced" away on a treadmill or with weights. If you'd like to reduce fat and look slimmer and trimmer without surgery, we have good news for you!
Introducing SculpSure, the revolutionary new body-contouring technology from Cynosure.
This FDA-cleared, non-invasive treatment uses a hyperthermic laser to disrupt subcutaneous fat cells in the treatment area with thermal energy. During one 25-minute treatment session per area, the device is applied to the surface of the skin, then the laser heats up and breaks down fat cells beneath the surface in a process called lipolysis. There is no anesthesia necessary and little discomfort. No downtime is required—you can go right back to your normal routine after your treatment.
Over the next few weeks, your body will naturally clear the disrupted cells, resulting in fat, and inches, lost. Full results will be visible between six and twelve weeks post-treatment. The thermal energy of the laser will also stimulate the growth of collagen and elastin, helping the skin in the treated area look more firm and smooth on the surface.
The result: slimmer, trimmer, smoother flanks, abdomen, arms, or thighs (or a combination of treatment areas, as determined by you and your cosmetic surgeon), as well as an improved appearance and more confidence in your favorite clothes…and out!
The results of SculpSure have been so impressive, we knew we'd have to offer this treatment to our patients here at Southern Surgical Arts. SculpSure allows us to provide a safe, comfortable, fast, and effective treatment for the reduction of stubborn fat in under half an hour. That means SculpSure can fit into even the busiest schedules.
SculpSure is completely non-invasive: no needles, no incisions, no scarring, and no anesthesia or recovery time involved. Best of all, you will only need one session per treatment area.
Are You a Candidate?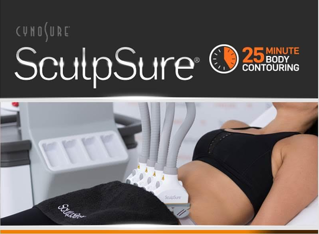 You may be a candidate for SculpSure if:
You are a non-smoker in good general health
You are between the ages of 18 and 70
You have a BMI of less than 30
You have mild to moderate excess fat in your abdomen, flanks, bra line, arms or thighs
If you have a more significant amount of body fat to lose, or desire extensive body contouring, you may wish to consider a more traditional approach such as liposuction or a surgical procedure like a tummy tuck.
Our board-certified, award-winning cosmetic surgeons, Dr. Carey Nease and Dr. Chad Deal, will be happy to provide you with a personalized, complimentary consultation to determine which treatments will be most likely to achieve your desired outcome.
If you're feeling as enthusiastic about SculpSure as we are, call our offices at 423-266-3331 to schedule your free personal consultation. We can't wait to share this exciting new technology with our patients!