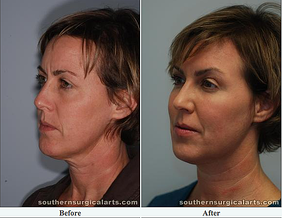 One thing we have noticed in our interactions with patients here at Southern Surgical Arts is that many do not realize they can get some of the benefits of a traditional face lift without actually undergoing surgery.
While most people are familiar with the traditional, surgical face lift procedure, many do not realize that a "laser" face lift can provide you with younger-looking, firmer, tighter skin…without stitches or scars.
If you are interested in having tighter, firmer-looking skin, minimizing wrinkles and fine lines, or just want a smoother, refreshed appearance—but are not ready to commit to surgery—a laser face lift may be an ideal option for you.
Keep reading to discover four important facts about laser face lifts.
Good just got better. Laser face lift capability has been around for a while, but the technology just keeps getting better. At Southern Surgical Arts, we insist on having the "gold standard" tool or equipment for each procedure that we perform. In this case, the newest, most state-of-the art tool for laser face lifts is the PrecisionTX™ laser.
The PrecisionTX laser allows skilled cosmetic surgeons to perform minimally-invasive procedures with a high degree of precision and efficacy. This innovative tool allows your surgeon to tighten the skin of the neck and jowls while also "melting away" unwanted fat. The treatment also stimulates your skin's natural production of collagen and elastin, two proteins essential to the health and beauty of your skin. The Precision Tx laser is often combined with the Smartskin CO2 laser for skin surface rejuvenation. Results of this treatment include skin tightening, wrinkle reduction, and overall improved skin tone and texture. The combination results in remarkable improvements and a very youthful appearance.
It's not just for faces. You may hear it called a "laser face lift" but the Precision TX laser also provides excellent results on the neck. If you have excess skin and fat on your neck and under your chin, you don't have to resort to camouflaging the area with turtlenecks and scarves anymore. Your cosmetic surgeon can use the Precision TX laser to tighten lax and droopy skin while at the same time removing stubborn fat pads…all with virtually no scarring.
Reduced procedure time and less downtime than surgery. Many of our patients delay treatment because they don't want the downtime associated with traditional face lift surgery, or just aren't ready for the idea of surgery in general. That makes a laser face lift a very attractive option. Using the Precision TX laser, a surgeon can usually perform a lift procedure in around 45 minutes with just local anesthesia and light oral or IV sedation. You will have less downtime than with a traditional surgery—generally about 3-5 days. Other than some mild bruising and swelling, you will experience very little discomfort. The scars are tiny and unobtrusive and will be unnoticeable even with short hair.
Realistic expectations are key. While you can achieve dramatic and beautiful results with a laser face lift, your transformation will not be as extensive as with traditional facial plastic surgery. A surgical face lift is a better choice if you have deep lines and wrinkles or have significant skin excess or drooping that needs to be removed.
If you'd like to enjoy tighter, firmer, smoother skin of the face, neck and jowls but aren't ready for a surgical face lift quite yet, consider a laser face lift. The best candidates for laser face lifts are non-smoking men and women in generally good health between the ages of 35 and 55. To learn more about your options for achieving a more youthful look, call Southern Surgical Arts at 423-266-3331 to schedule your FREE personal consultation.