Posted by Southern Surgical Arts on Nov 30, 2017 9:52:32 AM
With the holidays in full swing and that winter chill settling in, a serious skin care strategy is a must for maintaining a healthy glow.Since the face typically bears the brunt of the season's cold, dry, windy conditions, carving out the extra time to care for your skin will go a long way in fighting off old man winter. We've got you covered prepping for the party circuit with these proven tips and treatments: everything from what to nosh on to nourish your skin, to the necessity of a good night's sleep, to top-notch anti-aging products and seriously effective laser treatments.
Know the Tricks of the Anti-Aging Trade:
Your go-to skin care routine should always start with a daily application of high quality physician-grade sunscreen. Colder temperatures can keep us complacent to the dangers of year-round exposure but your skin is still susceptible to damaging sunrays during the winter months and sufficient protection is paramount.
A daily dose of Vitamin C in your diet can help you save face, now and in the future. Foods such as carrots, red bell peppers, sweet potatoes and parsnips rank among your best bets and are often more readily available than the usual – yet sometimes scarce after summer – orange.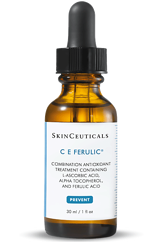 Vitamin C serums such as Skinceuticals CE Ferulic in your daily skincare practice pack a big punch as these products contain the same powerful antioxidants of the nutrient rich foods that combat damaging free radicals and toxins. Even better, these instantly absorbed high grade formulas specifically target your facial tissue to improve firmness while working to diminish fine lines and wrinkles.
Sufficient sleep is an essential soldier in the battle against aging – studies show too little shut eye over time dulls skin, exacerbates fine lines, and dark circles under the eyes when the stress hormone cortisol that is created by fatigue begins breaking down the collagen protein that keeps skin smooth and elastic.
Overnight retinol creams such as top-rated Skin Restorative from the Alastin Skincare line help you work double duty in turning back time while you rest. Retinol creams aid in regenerating the skin's natural process of elastin and collagen production for increased volume and plumpness to diminish wrinkles and reveal a more even skin tone.
Treat Yourself Well – and Often:
Beyond a high quality daily skincare and nutrition routine, cold weather calls for treating your face to the frequent pampering it desperately deserves. A Southern Surgical Arts Hydrating Facial nourishes your skin as it removes impurities to enhance collagen production and restore natural balance, radiance and moisture.
Regular laser treatments are your best shot to soften fine lines and wrinkles and significantly improve skin texture and tightness. The must-have Halo Treatment stimulates collagen growth while also improving skin pigmentation and reducing pore size. Although each laser technique provides a different delivery method, all ultimately increase collagen production and improve skin elasticity. To help you determine the best option to meet your needs, we offer complimentary full skin analysis to those interested.
Finally, getting the recommended amount of hydrating H20 and daily exercise goes a long way in giving you that youthful fresh face you need to shine this holiday season.
To book your appointment for these treatment options and more, call Southern Surgical Arts today at 423-266-3331.