According to the American Society of Aesthetic Plastic Surgery, blepharoplasty, or eyelid surgery, was the fourth most common cosmetic surgery in 2015, with just under 170,000 performed. It's not surprising how popular this procedure is when you witness how truly transformative it can be.
Patients come to Southern Surgical Arts for cosmetic eyelid surgery to restore a more youthful appearance to the eye area. As we age, our upper and lower eyelids lose elasticity and start to droop and sag—in some cases, obscuring the eyes, and in others, revealing too much of the white below the iris. Some patients may also have fat pockets beneath their eyes that begin to become more prominent with accompanying volume loss in the cheek area below.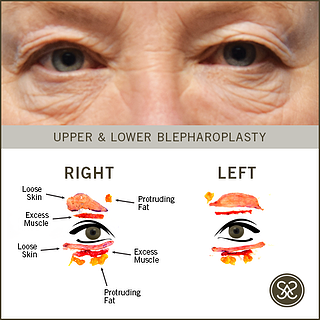 Fortunately, eyelid surgery can greatly improve your appearance, leaving you with brighter, smoother, more youthful looking eyes. This procedure typically takes about an hour and is done in an outpatient setting under local anesthesia and/or light sedation.
During the procedure, the cosmetic surgeon will remove any excess skin from the upper and lower lids. If you have enlarged fat pads, those may also be removed. Depending on your desired results and skin condition and tone, your surgeon may recommend a fat transfer procedure to rejuvenate the appearance of hollow eyes, or a brow lift in conjunction with your eye lift if your eyebrows have also sagged significantly. Laser resurfacing of the facial skin is also commonly performed at the same time as a blepharoplasty for enhanced results. Again, these suggestions will be tailored specifically for you and discussed with you at the time of your in-office consultation.
Patients generally need about a week to recover, but discomfort is minimal during the healing process and may be alleviated with the use of over-the-counter pain medications such as acetaminophen.
As with any cosmetic procedure, and especially where the skin around the eyes is concerned, it is important to choose a cosmetic or facial plastic surgeon with experience doing many of these procedures. You should ask to see before and after pictures of patients who have had similar procedures so you can get a feel for your surgeon's artistic abilities. The goal is to look natural, youthful and refreshed, not "done" or plastic, and with as minimal scarring as possible.
To learn more about blepharoplasty, please call us at 423-266-3331 for a free personal consultation. Dr. Micheal Kluska and Dr. Vincent Gardner will be happy to discuss all of your options for more beautiful eyes with you!