Ear Reshaping
Conveniently located to serve the areas of Calhoun, GA, Chattanooga, TN and Ooltewah, TN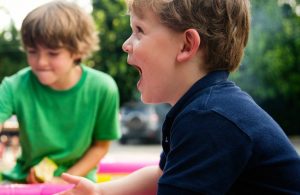 Primarily in children but in adults as well, awkward-looking or over-projecting ears can be a source of shame and embarrassment and affect the way others perceive them. Ears can sometimes be too large, disproportionate to the head, misaligned, or otherwise aesthetically unpleasing due to a genetic condition or previous accident that has caused a deformity. These issues can be corrected with an Otoplasty or ear reshaping procedure by an experienced facial plastic surgeon.
What Happens in an Otoplasty Procedure
Otoplasty is a commonly performed outpatient procedure.
The framework of the ear is essentially cartilage and skin. While anatomical differences vary from person to person, essentially Otoplasty reshapes either the position or size of the ear or both. Carefully planned, well-hidden incisions are made behind the ear, the skin is redraped, and the cartilage and ear itself are repositioned in a more pleasing way that is proportionate to the head and face. Also, large or torn earlobes can be corrected during this procedure or as an independent procedure in the office.
Patients have indicated some mild discomfort during the average 1-2 weeks that it takes to recover from this surgery, but it is generally very well-tolerated.
Who is a Good Candidate?
Children age 5 and up, or any adult
Non-smokers
Generally in good health
Desires ear reshaping
If you, your child, or someone you know has protruding ears or poorly-formed ears, or desires earlobe reduction, earlobe repair, or earlobe reshaping, all candidates are invited to schedule a private, informative consultation at Southern Surgical Arts.
How Much Does it Cost?
Our all-inclusive cost for Otoplasty begins at $4,900 and may exceed that amount for those patients that need additional, specific work. The final cost we give you will always include the surgeon's fee, anesthesia costs, facility fees, supplies, and all routine follow-up visits.
Recent Before & After Photos
We are hard at work to bring you our best gallery experience yet. Please check back often, or request a consultation to learn more about how Southern Surgical Arts can help you achieve your cosmetic goals.
To view before and after photos of cosmetic procedures for the Face & Neck, please visit our gallery.