Facelift for Men
Conveniently located to serve the areas of Calhoun, GA, Chattanooga, TN, Ooltewah, TN, Franklin, TN and Blueridge, GA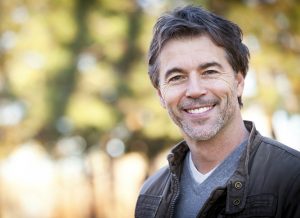 Facelift surgery, or rhytidectomy, is a procedure designed to restore a more youthful appearance by removing major wrinkles and sagging skin on the face and neck.
It involves tightening of the facial and neck muscles as well as the removal of any excess skin along the neck, jowl, and jawline.
The procedure will give a lifted, more youthful appearance to the cheek or midface area.
About Face Lift for Men
A facelift will improve your facial appearance and have a dramatic effect on your neck, enhancing its contour and profile. A facelift is frequently performed in conjunction with an eye and brow lift, chin augmentation and skin rejuvenation with chemical peel or laser resurfacing to create an overall rejuvenated face. You can repeat the procedure in the future, though it is rarely necessary for at least 10-15 years.
Artistic Cosmetic Face Lift Benefits vs. Traditional Plastic Face Lift
No pulled or plastic look
You can wear your hair up or short with well-hidden scars
Quick recovery (typically 7-14 days)
No general anesthesia. Only IV sedation and local anesthesia necessary
Reduced operating time (about 2-3 hours)
Improved, lasting results with advanced laser technology
What is Involved?
A Cosmetic Surgery Facelift includes incisions, suturing and removal of excess skin like a traditional facelift but with artistry and skill enhanced by modern technology to provide a natural result instead of a pulled, plastic look. Our surgeons have specific expertise in minimizing scars and placing them in well-hidden areas that are difficult to see.
They also offer fat transfer and lipo-sculpting of the face for a more natural, youthful appearance. Our surgeons have been using advanced techniques and laser technology for the past 4 years to provide our patients beautiful, long-lasting, natural results. Take a look at our before and after gallery to see how they can help you achieve similar results.
Who is a Good Candidate?
Men
Age 40 to 65
Non-smoker
Generally in good health
Desires a more youthful appearance to the face and neck
How Much Does it Cost?
The price of a Face Lift at Southern Surgical Arts begins at $9,000 and can range up to $10,000 or more depending on your needs. Your quote will include the surgeon's fee, anesthesia costs and the facility fee for the operating room and all other supplies and implants when indicated. The total price at Southern Surgical Arts also includes all routine follow-up visits.
Some surgery centers bundle the price of the procedure into one total fee like we do at Southern Surgical Arts and others may only quote you their surgeon's fee so that their prices seem less. We will give you the total surgery price.
Recent Before & After Photos
We are hard at work to bring you our best gallery experience yet.
Please check back often, or request a consultation to learn more about how Southern Surgical Arts can help you achieve your cosmetic goals.
To view before and after photos of cosmetic procedures for Men, please visit our gallery.