Pectoral Implants
Conveniently located to serve the areas of Calhoun, GA, Chattanooga, TN, Ooltewah, TN, Franklin, TN and Blueridge, GA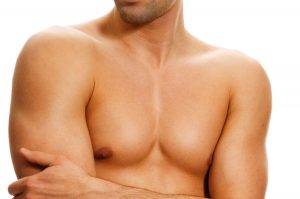 Commonly called "Pec" Implants, this common and safe solution is designed to make the Pectoralis ("Pec") muscles look larger and more defined.
Bodybuilders often request them when they feel they are unable to obtain enough pectoralis muscle bulk. Men with thin builds will also request them to help them look healthier and more muscular.
Silicone, Procedure, and Recovery Time
The implants are a soft solid, so they cannot leak.
The implants are made of silicone, similar to breast implants but are firmer to the touch. Silicone is approved for implantation but the use of pectoral implants is considered to be off-label use by the FDA.
The procedure takes approximately 1 hour to 1 ½ hours to perform. The procedure is usually performed under general anesthesia. The incision is made in the armpit (easily hidden by the armpit hair) and the implant is placed under the patient's pectoralis muscle. This helps hide the implant and gives it a more natural feel and appearance.
Patients can usually return to work in a few days as long as they avoid heavy lifting. Patients may usually return to moderate exercise after about 3 to 4 weeks, except for chest and shoulder exercises. A patient should wait approximately 6 to 8 weeks prior to performing chest or shoulder exercises.
Who is a Good Candidate?
Men
Age 18 to 65
Non-smokers
Generally in good health
How Much Does it Cost?
On average, pectoral implants begin at $3,499. Your specific quote will include the surgeon's fee, anesthesia costs, facility fees for the operating room and all other supplies and implants when indicated. The total price quote at Southern Surgical Arts also includes all routine follow-up visits.
Recent Before and After Photos
We are hard at work to bring you our best gallery experience yet.
Please check back often, or request a consultation to learn more about how Southern Surgical Arts can help you achieve your cosmetic goals.
To view before and after photos of cosmetic procedures for Men, please visit our gallery.