Breast Augmentation
Consultations offered at our two convenient locations in Chattanooga, TN and Calhoun, GA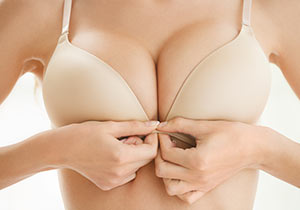 For many women, their breasts are one of the most beautiful and noticeable parts of their body. How a woman feels about her body in this regard is an important part of who she is. Naturally, the breasts can at times be too small for her liking, and push-up bras or other techniques burdensome and unsustainable.
The chest area changes with age, time, and along with other things such as weight gain and pregnancy. Breast augmentation can be used to correct volume loss after pregnancy or to help balance breast size asymmetries, as well as a reconstructive technique following other breast surgery.
About Breast Augmentation
Liposculpture, a method of body contouring, can be added to a breast augmentation procedure for additional shaping to create the desired look.
Different from a breast lift or breast reduction, a breast augmentation is a cosmetic surgical procedure designed to add volume to your breasts for a more full, youthful appearance. Volume in and around the breast is created by placing FDA-approved implants behind your natural breast tissue or chest muscle. These implants are made of either saline (salt water) or silicone gel and are manufactured and covered by a warranty from Allergan®, a leading quality implant manufacturer.
This procedure is typically performed in an outpatient setting with IV sedation and local anesthesia. It typically takes no more than 45 minutes, and the incision is less than 1 inch long and hidden in the breast crease or along the areola border. Recovery is usually no more than a few days, with the return to normal activity in a week.
Making the Decision
A personal consultation will allow you to meet with our certified, professional staff and get answers to all of our questions and concerns.
There's no doubt that changing your breasts can be a big decision and sometimes an emotional one; something to be taken seriously and not lightly. Choosing the wrong surgeon or a wrong/insufficient procedure can leave any patient with a bad cosmetic surgery experience that can last a long time. With the massive number of advertisements and options coming from the media and the culture, an in-person consultation is often the best way to get your questions answered and alleviate any concerns you may have.
Before & After Photos
Who is a Good Candidate?
Women
Age 18 to 65
Non-smokers
Generally in good physical health
Desire aesthetic enhancement of the breast
Desire augmentation or more fullness
How Much Does it Cost?
Breast augmentation at Southern Surgical Arts begins at $4,749. Your quote will include the surgeon's fee, anesthesia costs, the facility fee for the operating room, the implants and any additional supplies that may be needed, and all routine follow-up visits.