Breast Augmentation
Conveniently located to serve the areas of Calhoun, GA, Chattanooga, TN, Ooltewah, TN, Franklin, TN and Blueridge, GA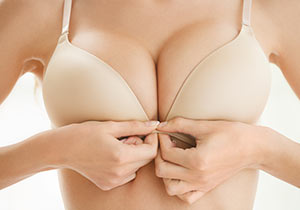 For many women, their breasts are one of the most beautiful and noticeable parts of their body. How a woman feels about her body in this regard is an important part of who she is. Naturally, the breasts can at times be too small for her liking, and push-up bras or other techniques burdensome and unsustainable. For those looking for an enhancement in the size, shape and fullness of their breasts, there is breast augmentation.
The chest area changes with age, time, and along with other things such as weight gain and pregnancy. Breast augmentation can be used to correct volume loss after pregnancy or to help balance breast size asymmetries, as well as a reconstructive technique following other breast surgery.
Our skilled surgical staff takes pride in helping women fall in love with their bodies! Every breast augmentation is customized to the unique goals and physical attributes of our patients. Whether you would like to make a subtle improvement or a dramatic change, Southern Surgical Arts will deliver beautiful results. Schedule a private breast augmentation consultation to learn more about your augmentation options today.
Before and After Photos
About Breast Augmentation
Liposculpture, a method of body contouring, can be added to a breast augmentation procedure for additional shaping to create the desired look.
Different from a breast lift or breast reduction, a breast augmentation is a cosmetic surgical procedure designed to add volume to your breasts for a more full, youthful appearance. Volume in and around the breast is created by placing FDA-approved implants behind your natural breast tissue or chest muscle. These implants are made of either saline (salt water) or silicone gel and are manufactured and covered by a warranty from Allergan®, a leading quality implant manufacturer.
This procedure is typically performed in an outpatient setting with IV sedation and local anesthesia. It typically takes no more than 45 minutes, and the incision is less than 1 inch long and hidden in the breast crease or along the areola border. Recovery is usually no more than a few days, with the return to normal activity in a week.
Implant Options
Patients can augment their breasts with saline or silicone implants by Allergan®. Each implant offers unique benefits and delivers flattering, beautiful results.
Saline
Saline implants are made of a silicone shell and filled with sterile saline solution. Saline implants have a firm but natural feel in the breast. Saline implants are inserted unfilled into the breast and inflated with saline once in place. This minimizes strain on the body, which can result in a shorter recovery time. If a saline implant leaks, the saline will be safely absorbed by the body and the implant will be replaced.
Silicone
Allergan® silicone implants are made of a cohesive silicone gel. Silicone implants have a soft, natural feel within the breast. While leaks in silicone implants are rare, they can occur. Patients will receive MRI's intermittently to check for implant leaks, also known as "silent rupture." In the rare case that a leak has occurred, the silicone will not post a health risk to the patient. The silicone will be removed from the body and the implant will be replaced.
Implants are available in round or teardrop shape.
The shape that you receive depends on your preferred breast appearance. Round implants will fill the breast circumferentially and create fuller cleavage. Teardrop-shaped implants replicate a natural breast shape and have more volume at the base of the implant than at the top.
Size & Projection
At Southern Surgical Artists, we take care to help every patient achieve their ideal, beautiful breasts.
Your surgeon will work closely with you to help you find the implant size and projection that will accomplish the size and look you want. We carry a range of implant sizes to help our patient achieve just the look she wants, whether it's an A cup, D cup, or above.
The projection of your implant is selected based on your existing breast tissue and the measurements of your chest. Implant projection plays a major role in accomplishing your desired results.
Allergan implants have extra full, full, moderate, and low projection.
Implants with the lowest profile will take up the most width within the chest, while implants with extra full projection with have a narrower base and protrude farther from the body. The right implant projection for a patient will deliver the desired breast shape and amount of cleavage.
Incision Placement
The breast implant may be placed in the breast using one of four methods:
Periareolar
Periareolar incisions are made along the lower border of the areola. This incision also enables our surgeons to reduce the size of stretched-out areolas.
Inframammary Crease
The inframammary crease refers to the underside of the breast. Incisions made in the inframammary crease are well-concealed by the breast itself.
Axillary
Axillary incisions are made in the armpit, where scars are easily hidden by the arm.
Periumbilical
Periumbilical incisions are made at the belly button. The surgeon guides the implant to the breast. This is also known as the TUBA method. Periumbilical incisions leave no scarring on the breast and preserve patient's ability to breastfeed.
Subglandular Vs. Submuscular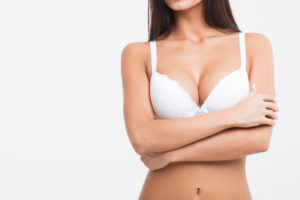 Implants are placed in one of two positions within the breast: beneath the pectoral muscle, or beneath the breast glands, above the muscle. Submuscular implant placement is also known as "dual plane" placement, because the upper pole of the implant sits beneath the muscle, while the bottom of the implant sits within the breast, where the muscle ends. Submuscular implant placement produces less rippling and makes the implant more difficult to detect.
Submuscular placement is a good option for patients with less body mass. Because the implant can "animate" when the pectoral muscles contract, more athletic women may be better candidates for subglandular placement
Subglandular placement situates the implant in the breast, over the top of the pectoral muscles. Subglandular placement can achieve a slight lift of the breast, making it a good option for women who have slightly sagging breasts and who do not feel ready for a breast lift.

Making the Decision
A personal consultation will allow you to meet with our certified, professional staff and get answers to all of our questions and concerns.
There's no doubt that changing your breasts can be a big decision and sometimes an emotional one; something to be taken seriously and not lightly. Choosing the wrong surgeon or a wrong/insufficient procedure can leave any patient with a bad cosmetic surgery experience that can last a long time. With the massive number of advertisements and options coming from the media and the culture, an in-person consultation is often the best way to get your questions answered and alleviate any concerns you may have.
Breast augmentation is a highly personalized procedure.
The surgeons at Southern Surgical Arts will take the time to get to know you and your goals for your body. Your surgeon will make a series of measurements and discuss your medical history with you to guarantee your treatment plan is the best, safest option for you. We want you to feel confident and well-informed before making any decisions regarding your breasts.
Who is a Good Candidate?
Women
Age 18 to 65
Non-smokers
Generally in good physical health
Desire aesthetic enhancement of the breast
Desire augmentation or more fullness
Recovery
You will receive personalized instructions to help you complete a smooth recovery after your breast augmentation. Your instructions will cover approved methods of controlling any post-procedure discomfort. If you have questions at any point about your recovery, please do not hesitate to contact us! All patients will return for follow-up appointments over the weeks following breast augmentation so that we can monitor your progress. Surgical dressing and garments will be removed a few days after surgery.
Get plenty of rest during the first week of your recovery. Sleep on your back and take brief but frequent walks during the day. Most patients can return to work within one week of breast augmentation!
Do not lift heavy objects or lift your arms above your head for two weeks. Patients with small children may need to seek additional assistance during this time.
Allergan Textured Implant Recall
As of Spring of 2019, the FDA announced that there was a concerning correlation between textured breast implants and the development of breast-implant associated anaplastic large cell lymphoma (BIA-ALCL). While cases are still overall rare, Allergan takes the health of their patients very seriously. Considering this, they have announced a recall of their textured BIOCELL and Natrelle saline and silicone implants.
The FDA does not recommend removal or replacement of textured breast implants in patients without BIA-ALCL symptoms. If you received a textured Allergan implant in the past and have questions, the doctors at Southern Surgical Arts are here to help.
How Much Does it Cost?
Breast augmentation at Southern Surgical Arts begins at $4,749. Your quote will include the surgeon's fee, anesthesia costs, the facility fee for the operating room, the implants and any additional supplies that may be needed, and all routine follow-up visits.