Neck & Jowl Sculpting
Conveniently located to serve the areas of Calhoun, GA, Chattanooga, TN, Ooltewah, TN, Franklin, TN and Blueridge, GA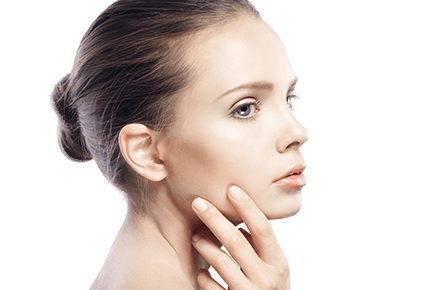 Neck and jowl sculpting is a way to eliminate loose skin and fat deposits that occur during the natural aging process. Although we spend time and effort to maintain a youthful complexion, the neck and jowl area can be a tell-tale signal or even an exaggeration of our age and weight. As the years pass, the collagen that keeps our skin smooth and firm begins to slow in production, and laxity and wrinkles appear. At the same time, without this structural support, the pockets of fat that once kept our cheeks full descend, settling into jowls around our jawline. But with today's array of effective cosmetic procedures, there's no need to concede to these unwanted symptoms of aging. Southern Surgical Arts offers solutions that can restore the smooth youthful contours to your neck and jowls. We offer a range of procedures to tighten and define the areas of the lower face and restore pert, angular lines to the neck and jaw. If you have wrinkles, sagging skin, stubborn fat, or excess tissue that is taking away from your appearance and confidence, Southern Surgical Arts can help. Our offices in Ooltewah and Chattanooga keep Tennesseans taut, and our Calhoun location keeps Georgians gorgeous. If you're considering a little (or a big) pick me up down South, contact us for a personal consultation today! 
About The Neck and Jawline
Maintaining a smooth, streamlined appearance to the neck and jawline requires fighting an uphill battle in more ways than one!
Facial aging is a universal cosmetic concern, and as a result, has been studied extensively by scientists. The appearance of aging is spurred on by several factors, including changes in the skin, facial skeleton, and soft tissue. It's no secret that as we age, the skin all over our body thins, collagen decreases, and our dermis loosens. Lines and wrinkles creep in. But did you know that our facial bone structure changes as well? The maxilla is the area above our upper teeth and extends to the cheekbones on either side of our nose. As we age, this area retracts, shifting the planes of our faces. This contributes to less dynamic contours of our facial features and less support for otherwise voluminous tissue. At the same time, the distribution of our facial fat begins to change. (1) The plump pockets of fat that contribute to full, youthful cheeks become depleted, while we begin to accumulate additional fat in other areas, like underneath the chin. Add gravity into the mix and you have a perfect storm of dreaded double chin, lax jowls, and saggy, wrinkled, neck skin. This is all very discouraging. But if you've been dismayed to notice these changes in your lower face and neck, you're certainly not alone. One of the most common areas of aesthetic concern is in fact the chin and jawline.
Sculpting Solutions for the Neck and Jowls
When it comes to addressing this area of the body, you have options! The neck and lower face can be tightened and contoured using a variety of methods.  Effective solutions include liposuction of the excess tissue that contributes to jowls. If volume is what you're lacking, these areas can easily be fortified with a fat graft.
For those who always wished their chin was more pronounced, it may be time to consider a chin augmentation. Adding dimension to this area of the face can lift and tighten the entire lower area of the face and correct imbalanced proportions. However, for those needing a more intensive rejuvenation, there are other popular options that can offer significant, satisfying results. SmartLipo and neck lift procedures can be performed separately or in combination to eliminate unwanted fat as well as tighten and smooth skin.
Neck Lift
A neck lift is also known as a platysmaplasty. This surgical procedure tightens the neck by realigning the tissues and suturing several small muscles under the chin to secure them in a taut, youthful position. A neck lift also addresses loose, excess skin and fat. This can all be accomplished through subtle incisions under the chin.
Improvements that can be achieved with a neck lift include:
Tightening muscles under the chin for a cleaner angle where the submental area meets the neck
Removing fat deposits for clearer contours
Eliminating loose skin under the chin and on the neck
Reduces the horizontal "banding" that occurs around the neck
For patients with more extreme cases of jowls and loose skin, a neck lift can be combined with a lower facelift for a clean, clear definition of the jawline and a smoother, firmer appearance. 
The K Lift
Dr. Michael Kluska has developed a minimally invasive facelift procedure that features an extremely fast recovery. The K Lift involves only a small 1/2" incision behind each ear. This allows Dr. Kluska to contour the jaw and neckline, eliminating jowls and adding sculpted definition. It also combines the use of internal thermal skin tightening with Renuvion or NeckTite and fat removal with liposuction. This procedure only takes 1 hour and requires 3-4 days of light compression and downtime, so you can recover over a long weekend!
SmartLipo
SmartLipo is the latest development in liposuction technology and is gentle enough to be used in the delicate area under the chin and around the jawline.
This technology combines the advantages of laser technology and liposuction. The needle-sized cannula features a laser fiber. This thin tube (approximately 1.0 mm to 2.0 mm) is inserted under the jawline through a small entry point. As the laser energy creates a thermal effect, the unwanted fat deposit is liquefied for gentle and precise removal. At the same time, the heat from the laser causes the collagen in the connective tissue to contract, tightening and smoothing the skin. It also has the advantage of causing blood vessels to coagulate on contact, resulting in less bleeding, bruising, and a faster recovery time than conventional liposuction.
Candidates for Neck and Jowl Sculpting
These procedures are versatile and effective. Because they can be customized to treat areas of specific concern, the best way to find out if you are a good candidate for SmartLipo and/or a neck lift is to schedule a personal consultation.
Ideal candidates for neck and jowl sculpting are:
People of any gender
Age 18 to 65
Non-smoker
Generally in good health, with no underlying medical conditions
Desire cosmetic improvement around the neck and chin
Have sufficient fat or excess skin to warrant safe removal
Are committed to a healthy recovery and lifestyle, and have realistic expectations for their results
Personal Consultation
During your personal consultation at Southern Surgical Arts, you can expect a supportive staff and caring doctors. Dr. Deal, Dr. Gardner, and Dr. Kluska listen carefully to their patients' goals and concerns so that they can recommend the most effective procedure for life-changing results. After a friendly and honest discussion, we will examine your skin and facial structure to determine the right course of treatment for your unique anatomy and desires. We will also review your medical history to ensure that you are a good candidate for surgery. Our years of experience and commitment to safety guide every procedure that we perform. And since 2004, Dr. Chad Deal, Dr. Michael Kluska, and Dr. Vincent Gardner have collectively performed more than 18,000 major cosmetic procedures! If you stand to benefit from SmartLipo and or a neck lift, we'll devise an individualized treatment plan and surgical approach so that you can look like the very best version of yourself, and enjoy youthful, natural-looking contours. If you're ready to take the first step in rejuvenating your profile, schedule your complimentary consultation by calling our offices at (423) 266-3331. 
Recovery and Results
The duration of your recovery will depend on the details of your procedure, and your body's unique healing ability. SmartLipo offers the advantage of a quick recovery – usually a week or less. Recovery from a neck lift will depend on the extent of incisions and sutures required, but patients are often able to enjoy significant results within three months of their surgery. You'll be given a personalized recovery timeline, and your progress will be carefully monitored during your follow-up appointments.
To find out more about the services that Southern Surgical Arts offers and to keep up with what's new with Dr. Deal, Dr. Gardner, and Dr. Kluska, follow our blog!
How Much Do Neck and Jowl Sculpting Cost in Chattanooga?
These transformative procedures can truly turn back time. The cost of your neck and jowl sculpting will depend on the specific procedure or combination of procedures necessary to give you the best results. The condition of this area will also determine the amount of time, consideration, and surgical attention required. After an evaluation during your personal consultation, you'll be given a proposed treatment plan and cost estimate for your procedure. Neck and jowl lifts start at $3,600.
References
Wan D, Amirlak B, Rohrich R, Davis K. The Clinical Importance of the Fat Compartments in Midfacial Aging. Plastic and Reconstructive Surgery Global Open. 2014;1(9). doi:10.1097/GOX.0000000000000035
Baumann L, Shridharani SM, Humphrey S, Gallagher CJ. Personal (Self) Perceptions of Submental Fat Among Adults in the United States. Dermatologic Surgery. 2019;45(1):124-130. doi:10.1097/dss.0000000000001648
Kaplan JL. The Single Incision Minimally Invasive (SIMI) Neck Lift. Plastic and Reconstructive Surgery – Global Open. 2019;7(5):e2208. doi:10.1097/gox.0000000000002208