HydraFacial
Conveniently located to serve the areas of Calhoun, GA, Chattanooga, TN, Ooltewah, TN, Franklin, TN and Blueridge, GA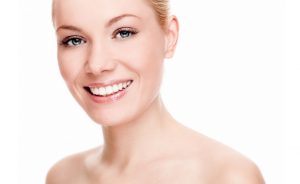 A HydraFacial is a noninvasive medspa treatment that uses patented three-step vortex technology to cleanse, extract, and hydrate the skin for a brighter, more radiant complexion. Are you tired of uneven skin texture? Or do you suffer from excess oil production? Perhaps dull, dry skin is getting you down. If you need help to reinvigorate your skin this season, a quick, convenient HydraFacial treatment could be exactly what you need for a fresh start!
For many years, skin experts have been staunch supporters of the "cleanse, tone, moisturize" mantra. We can use topical skincare products, including daily UV protection, moisturizers, and topical antioxidants to help our skin fight the effects of damaging external factors and to strengthen from within. Similarly, it has been proven that a daily skincare routine can have a significant long-term impact on the overall quality of a person's complexion. (1) But, as brushing twice daily and routine dentist visits are for dental care, so too are specialist skin care appointments, in addition to our daily skincare regimen, to maintain our healthy visage.
At Southern Surgical Arts (SSA), we understand your beauty needs. We offer a comprehensive range of surgical procedures and non-surgical medspa treatments to revitalize and refresh your body. We have offices in the three Tennessee locations of Chattanooga, Ooltewah, and additional offices in Blue Ridge and Calhoun, Georgia. As a result, you're bound to find one of our locations in your vicinity!
Contact our offices online, or call our front desk directly at (423) 266-3331 to book a personal consultation with a skincare specialist local to you!
About HydraFacials
A HydraFacial is like no other skin treatment! Its effects are similar to using both aggressive microdermabrasion and chemical peels combined, but with fewer aggravating effects. The treatment is split into three stages:
Stage 1: Cleanse and Peel: Relax and unwind as a trained medical professional uncovers a new layer of skin with gentle exfoliation.
Stage 2: Extract and Hydrate: Feel the difference as debris from your pores is painlessly suctioned away, and then the remaining tissues are nourished with intense, quenching moisturizers.
Stage 3: Fuse and Protect: Maximize your skin's potential with saturating antioxidants and peptides to refine and beautify your complexion.
How is HydraFacial Technology Different?
The HydraFacial process incorporates a variety of spiralized treatment tips attached to a handpiece that cleanse and exfoliate the skin. They do so by lifting debris from the skin with a patented Vortex-Fusion delivery system, then infusing the tissue with powerful "actives" or serums to moisturize, brighten, tighten and tone facial tissue.
No Pain? No Problem!
One of the greatest benefits of a HydraFacial is how comfortable it is to experience! Because of the Vortex-Fusion technology, and the specialized shape of the attachments, you will experience pain-free extraction of dirt and clogging debris! (2)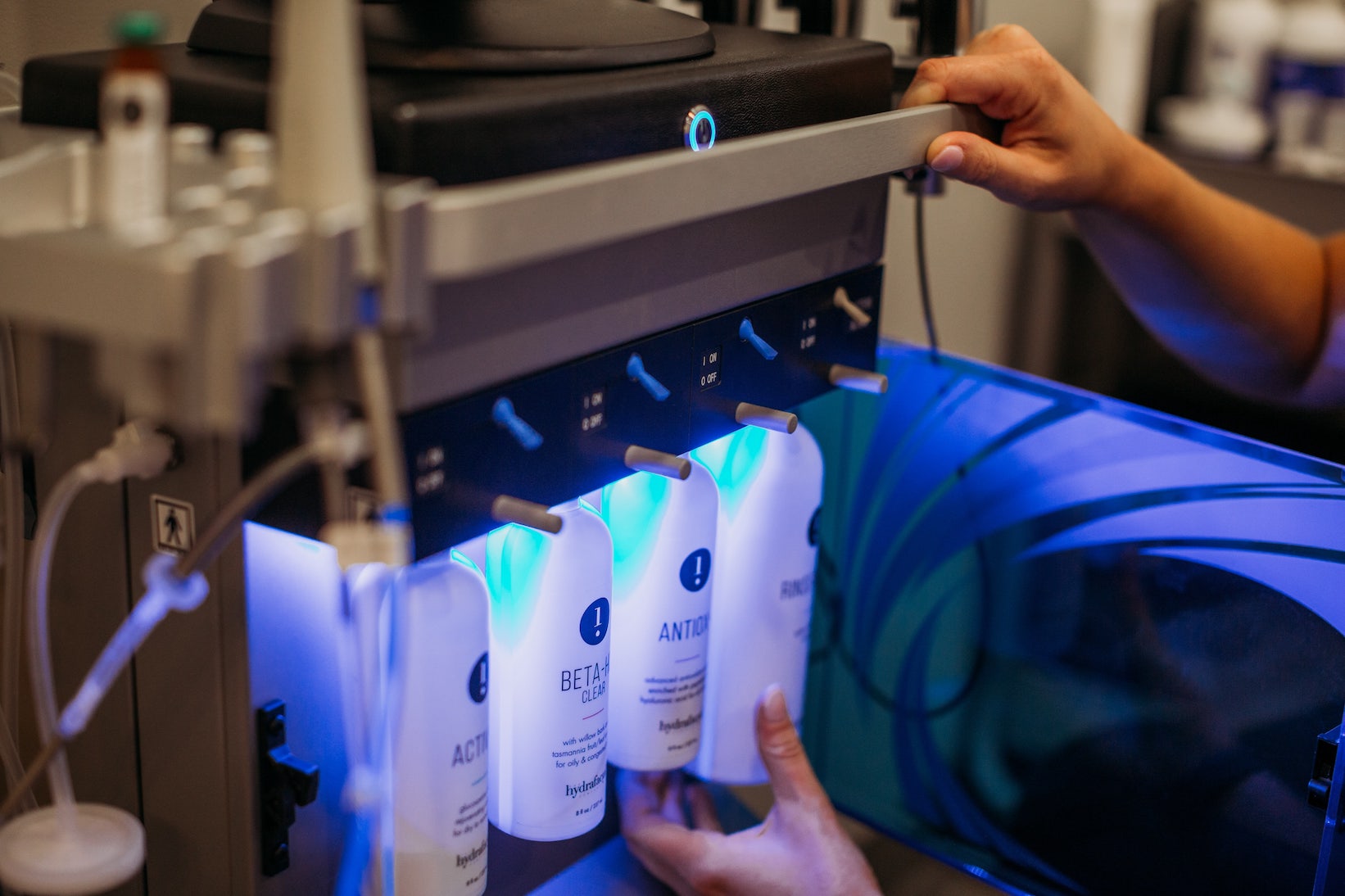 Benefits of a HydraFacial
Studies have demonstrated that after hydradermabrasion, polyphenolic antioxidant levels in the skin increase. (3) Antioxidants are key compounds that help us achieve a clear, youthful-looking complexion. A HydraFacial treatment promotes clear, well-hydrated skin with many benefits, which include:
Suitable for all skin types
Customizable options
Gentle application
Zero downtime
Tailored to individual skin types
Unique, effective delivery system
Enhancing Boosters
Customizable Boosters
One of the wonderful things about a HydraFacial treatment is its adaptability! A hydrafacial wouldn't be complete without a luscious selection of booster serums to complete your skin revitalization, so you're free to pick the booster serums that will benefit you the most!
Britenol BOOST – Repair damaged skin with enriching Alpha-Arbutin and Vitamin C antioxidants. This booster can erase the effects of sun damage, blemishes, and hyperpigmentation.
Bright Alive BOOST – For clearer, blemishless skin, you need Oligopeptide-68, Diglucosyl Gallic Acid, and N-Acetyl Glucosamine, boosters that can rid the skin of imperfections.
Dermabuilder BOOST – Deeply hydrate your skin with water-boosting octapeptides, dipeptides, to restore the skin's ability to smooth wrinkles and lines
Growth Factor BOOST – This concentration of essential growth factors will moisturize the skin and smooth away fine lines and wrinkles.
Candidates
If you want to detoxify your skin or leave it feeling smoother, softer, or more toned, a HydraFacial treatment is an excellent option! Candidates for a HydraFacial treatment may wish to address the following conditions:
Acne
Age Spots
Blackheads
Blemishes
Clogged Pores
Dry Skin
Enlarged Pores
Fine Lines
Hyperpigmentation
Oily Skin
Sun Damage
Uneven Skin Tone
Wrinkles
Speak to your doctor about the use of Accutane and other oral isotretinoin treatments for acne, as these medications should be stopped well in advance of your HydraFacial. Similarly, please consult with one of our specialists if you use topical products such as Retin-A, as these treatments must be stopped in the days before a HydraFacial procedure.
At SSA, we want you to be informed about the latest surgeries and treatments. Stay connected by visiting our blog, take a peek into the Woman's Wellness procedures we offer, or explore the wonders of non-surgical weight-loss with Orbera!
Personal Consultation
Choose from five different treatment locations in Tennessee and Georgia to book your personal consultation with one of our skin specialists. We want you to feel comfortable in our peaceful, inviting space, so we invite you to come prepared with questions about your medspa treatment. During your one-on-one meeting, we'll take a look at the area(s) of skin you wish to treat and design a customized treatment plan for your needs. By hand-picking a selection of nourishing, skin-enriching serums, you will benefit from the versatility of the HydraFacial treatment. We will tailor a skin type-specific, hassle-free procedure to address your needs and reach your beauty goals! Call (423) 266-3331 to schedule your individual appointment, or fill out a convenient online inquiry form today!
Preparation for a HydraFacial
Caring for your skin in the run-up to your HydraFacial treatment is important to ensure you get the best results. Quite a few common prescription and non-prescription medications can affect its success, so it is important that you follow your pre-procedure instructions thoroughly. Patients who are preparing for a Hydrafacial should do the following things before their treatment:
Stop taking Accutane and other isotretinoin acne treatments six months beforehand.
Stop using Retin-A, and other prescribed topicals that target acne.
Stop using benzoyl peroxide, salicylic acid, and other over-the-counter acne treatments.
Avoid exfoliating skin treatments in the days leading up to treatment.
Refrain from similar treatments entirely, especially chemical peels.
Do not have Botox or similar neuromodulator injections two weeks beforehand.
Do not use depilatory creams or wax the areas of your face for treatment.
Avoid staying out in the sun or using tanning beds.
Take a moment to add us to your socials! Don't forget to give us a thumbs up on Facebook, and like and follow SSA on Instagram!
The HydraFacial Procedure
A HydraFacial begins in a similar way to microdermabrasion, in that it exfoliates and resurfaces the skin. Your skin specialist will select a range of attachments that serve different revitalizing properties for each treatment stage. HydraFacials do not employ the use of microcrystals, but instead, combine oxygen and aqueous solutions to blast the skin at supersonic speeds. This reveals the new skin cells underneath and stimulates healing. This painless process can feel a little strange, and it has occasionally been likened to the abrasive (but tolerable) lick of a cat's tongue! Once the surface debris and dead skin cells are suctioned away, your doctor will vacuum away excess sebum deposits. Lastly, a tailor-made blend of antioxidants and topical serum boosters will replenish your newly resurfaced skin.
The doctors at SSA know that your time is important. Thankfully for the busy patients of Tennessee, this treatment is incredibly fast! Usually, a HydraFacial procedure takes around 45 minutes. After this, your skin will feel transformed, refreshed, and reinvigorated, and you will be able to resume your daily routine immediately afterwards!
Results of a HydraFacial Treatment
Our patients are increasingly choosing HydraFacials as non-invasive ways to resurface their skin, as they offer a gentler experience than some other treatments. Additionally, as a no-downtime treatment, this procedure has very few post-appointment requirements. We caution our patients to avoid sitting in direct sunlight and to use a high factor sunscreen if sun exposure is unavoidable. You can use gentle cleansing products and ensure you are well-hydrated by drinking plenty of water. Your HydraFacial will reveal blemish-free, renewed, refreshed skin!
Corresponding & Complementary Procedures
Forever Clear – Forever Clear by Sciton uses light therapy to reduce acne-causing bacteria. Consider adding this to your treatment schedule to target blemishes and acne-prone areas!
Xeomin – Let a HydraFacial work in tandem with a Xeomin injectable treatment! Spaced two weeks apart, you can benefit from the wrinkle-smoothing effects of Xeomin, and the clearing, exfoliating results of a HydraFacial.
Chemical Peel – If you're looking for a corresponding procedure with longer-lasting skin resurfacing effects, consider one of our tailored Chemical Peel options.
Cost
As the HydraFacial is so versatile, its cost will vary depending on your individual needs and aesthetic goals. We offer a range of convenient payment options to suit every patient's needs! Please visit our financing page for further information about financing options at SSA.
FAQ
Is a HydraFacial different from a chemical peel?
Yes, the resurfacing technique is considerably different. While a chemical peel uses a mixture of various skin peeling agents to resurface the skin, a HydraFacial produces a similar effect with a three-stage treatment. In a HydraFacial, a special nozzle propels a mix of aqueous agents and oxygen, hydrating treatments, and revitalizing serums onto the face. Both procedures can resurface and beautify the skin, leaving it feeling refreshed and renewed.
Does a HydraFacial use serums on the face?
HydraFacial treatments can be customized to suit your individual needs. There is a variety of booster serums that cater to many different skin types. You can discuss your needs and work with your doctor to find the right combination for you!
How long do the results of a HydraFacial last?
Every person is different, and every skin type responds differently to treatment. Usually, patients find that the exfoliating, resurfacing effects of a HydraFacial can last around six weeks.
References
Rodan, K., Fields, K., Majewski, G., & Falla, T. (2016). Skincare Bootcamp. Plastic and Reconstructive Surgery – Global Open, 4(12), e1152. https://doi.org/10.1097/gox.0000000000001152
The HydraFacial Treatment – Patented to Cleanse, Extract & Hydrate. (n.d.). Hydrafacial. Retrieved December 27, 2021, from https://hydrafacial.com/the-treatment/
Pappas, A., Johnsen, S., Liu, J.-C., & Eisinger, M. (2009). Sebum analysis of individuals with and without acne. Dermato-Endocrinology, 1(3), 157–161. https://doi.org/10.4161/derm.1.3.8473