Below the Waist Makeover
Conveniently located to serve the areas of Calhoun, GA, Chattanooga, TN, Ooltewah, TN, Franklin, TN and Blueridge, GA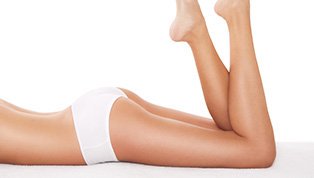 The 9 months of a pregnancy is a beautiful time for many women. She's making the sacrifice to bring a bundle of joy into the world. At the same time, pregnancy can change the way her stomach, waist, buttocks, and thighs look—all to varying degrees.
After the childbearing years, many women just want to get their pre-pregnancy body back.
Most Common Procedures
In cosmetic surgery today, there are options for moms who want to get back to their pre-pregnancy body.
When talking about what options are available below her waist, a Tummy Tuck may be all she needs. In other cases, traditional liposuction or Smart-Lipo (a laser-assisted sculpting technique) is the best option for the love handles or thighs, in which unwanted fat is removed. Fat transfers can also be helpful, such as with the Brazilian Butt Lift where fat removed during liposuction can be transferred to the buttock area. Thigh lifts may also be an option for some women.
Who is a Good Candidate?
Women
Moms up to age 65
Non-smoker
Generally in good health
Desires aesthetic enhancement of the abdomen, flank and thighs
Desires a restoring of her figure to pre-pregnancy days
How Much Does it Cost?
When it comes to the abdomen and surrounding lower area, the options vary considerably based on what all you might need changed. A mini-Tummy Tuck, for example, starts at $6,999, whereas a Tummy Tuck starts at $8,000. A Tummy Tuck along with some of the other procedures mentioned above can range anywhere between $10,000 and $20,000. Our total cost covers the procedure, anethesia, materials/supplies used, and all routine follow-up visits (lab work and medications are excluded).
There are no hidden fees or hidden costs.
Recent Before and After Photos
To view before and after photos of SSA's Mommy Makeover cosmetic procedures, please visit our gallery.