Breast Revision
Conveniently located to serve the areas of Calhoun, GA, Chattanooga, TN and Ooltewah, TN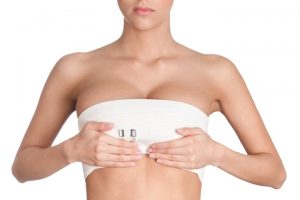 There are several reasons a woman may want to have corrective breast surgery. Some women have naturally-occurring breast irregularities or deformities. Some have had previous breast surgery, but the results are less-than-optimal. And occasionally even the most expert breast surgery can develop problems over time.
Uneven Breasts
Uneven breasts can be corrected with implants, a breast lift or breast reduction.
While no pair of breasts is ever absolutely identical, sometimes the breasts differ distinctly in size or shape. One might be an A-cup, and the other a C-cup. Using different size implants can correct this problem. Mastopexy (breast lift) may also be recommended for one or both breasts.
Sometimes, breasts are uneven because one droops more than the other. To correct this condition, the surgeon may recommend a breast lift on one side and a breast implant on the other, or perhaps implants on both sides.
Tuberous Breasts
Pointy appearing breasts can be corrected and made voluptuous.
Tuberous, or very pointy-appearing, breasts are a deformity caused when the inferior pole (lower half) of the breast is severely constricted. Without enough breast tissue and skin on the underneath, the breast appears pointed rather than rounded. There are several surgical techniques that can be used to correct this condition.
Post-implant Surgery Issues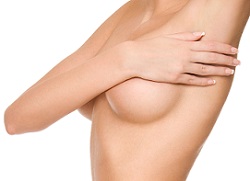 Women may also experience problems from a previous breast surgery, either soon after or later on. If saline implants deflate, they must be replaced. If excessive scar tissue develops around a breast implant – called capsular contracture – the scar tissue can be removed. In this case, there is a risk that new scar tissue may form.
Breast implants may also be poorly positioned – one or both appearing too high, too low or too far apart to provide desired cleavage. A skilled surgeon can usually correct these problems. Other patients may see severe rippling or other issues that can usually result when implants are placed on top of the chest muscle. Re-placing the implants under the muscle or replacing saline implants with silicone are two possible corrective techniques.
Some patients may need a breast lift after implant surgery.
That can happen when time has passed and the breast is starting to sag or because a breast lift should have been the recommended procedure in the first place.
Every woman's body is unique. It takes both skill and talent to design the right surgical approach to individually-tailor corrective breast surgery.
Who is a Good Candidate?
Women 18 to 65 years of age
Non-smokers
Generally good health
Desire more uniform appearance between breasts
Experiencing problems resulting from previous breast surgery
How Much Does it Cost?
Corrective breast surgeries at Southern Surgical Arts start at $4,000. Actual cost depends on your individual anatomy, desired results and the specific procedure(s) that are performed. Your personal quote will include the surgeon's fee, anesthesia costs, facility fees (for the operating room and all other supplies and implants when indicated) and all routine follow-up visits.
Recent Before & After Photos
To view more before and after photos, please visit our gallery.