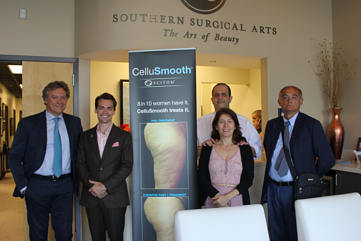 Dr. Deal was recently named as a luminary physician for Sciton, the manufacturer of some of the finest aesthetic lasers and light therapies for permanent hair removal, reduction of lumps and bumps, laser liposuction, skin resurfacing and more.
Part of what Dr. Deal will do for Sciton as a luminary physician is help train other surgeons and physicians from around the world.
Dr. Deal recently trained surgeons from Brazil and Italy in our Chattanooga office. In October, he will speak in New York at the American Academy of Cosmetic Surgery's 2013 World Congress on Advanced Liposculpture and Body Contouring followed by a World Summit in Dallas, Texas later in October.
Southern Surgical Arts in Chattanooga and North Georgia has the most complete line of lasers and light therapies in the entire region. Our eleven lasers have multiple modes that allow for precise targeted treatments, as well as full field and fractional treatments to stimulate collagen and help erase age spots. This allows us to treat any skin type with any aesthetic concern while also allowing us to customize your recovery to your lifestyle. Southern Surgical Arts is known for using our advanced technology to provide you with a quick recovery and the results you desire.