Patients put their trust in triple-board certified facial plastic surgeon, Dr. Nease at Southern Surgical Arts
Facial Plastic Surgery rhinoplasty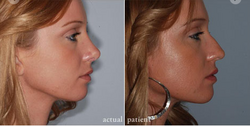 After Before
For decades, humans have been searching for the fountain of youth. While Ponce de León may have found vitality-restoring waters in Saint Augustine, Florida, they are no match for the wrinkle reducing results of Botox and soft-tissue fillers.
In 2011, the American Society of Plastic Surgeons reported that cosmetic surgery patients received more than 5.6 million botulinum toxin type A, like Botox or Dysport, and more than 1.8 million soft-tissue filler procedures, like Juvederm, Radiesse and a patient's own fat. Soft-tissue filler procedures were up seven percent over the previous year, compared to five percent for Botox and Dysport procedures.
At Southern Surgical Arts, Dr. Carey Nease has performed hundreds of facial procedures for cosmetic surgery patients in the Chattanooga area. He has been rightfully dubbed "Chattanooga's Face Doctor" for his artistic work on both men and women. Dr. Nease is a triple-board certified Facial Plastic and Cosmetic Surgeon helping his patients achieve natural, youthful results through face lifts, neck lifts, brow lifts, nose reshaping, chin augmentations, fat transfer, SmartLipo and laser resurfacing procedures.
"There are three core areas that contribute to facial aging," said Southern Surgical Arts' Dr. Nease. "Environmental exposure causes surface damage, volume loss from the atrophy of facial fat leads to facial hollowing, and there is sagging of facial skin and soft tissues. It makes more sense that we combat the aging process with not only surgical skin tightening but also nonsurgical products and procedures to achieve the most natural results."
Since nonsurgical procedures were introduced to the market over a decade ago, Dr. Nease has perfected techniques using Botox and soft-tissue products.
Speaking about her facial procedure at Southern Surgical Arts, one patient says, "Some people think that aging gracefully is accepting the lines and sagging of skin. I think that aging gracefully means utilizing all the options given to you to keep your face looking as good as it did twenty years ago. The cosmetic facial work I received from Dr. Nease has kept me looking as young as I feel!"
To see before and after results of cosmetic facial procedures performed by Southern Surgical Arts, please click here. A no-cost consultation for facial procedures is available by calling 423-266-3331.