Southern Surgical Arts is holding a groundbreaking ceremony for its new 27,000 square foot building located in the Southside area between Cowart and Broad Street in downtown Chattanooga on Monday, April 8 at 5:15 pm.
Southern Surgical Arts 27000 sq ft building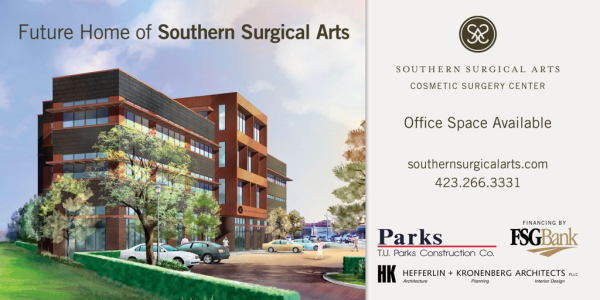 The new development is the biggest new office building on Chattanooga's Southside in a couple of decades. "Southern Surgical Arts is known for its surgical artistry, which makes the Southside area a perfect fit for us," said Dr. Carey Nease, the company's founding partner.
FSGBank, Chattanooga's largest community bank, is providing financing for the new facility of Southern Surgical Arts in downtown Chattanooga, TN. Bank CEO Mike Kramer said, "FSGBank is honored to be partnering with Southern Surgical Arts and Dr. Carey Nease. Dr. Nease and his teammates have an impressive record of client and business success, and their commitment to a philosophy and practice of "giving back" to their community is consistent with the values of our Bank. We look forward to a long and healthy relationship with the Southern Surgical Arts team."
Chattanooga's Mayor Ron Littlefield has been invited to the ceremony. Representatives from FSGBank, Hefferlin + Kronenberg Architects, and T.U. Parks Construction Company will attend.
The public is invtied to this event, as well. If you are interested in leasing space, please call 423-266-3331 for more information.