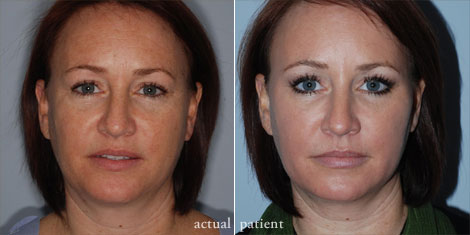 Creases and crow's feet have you wrinkling your nose in the mirror? Sun damage and age spots making you regret your years of beachside baking?
If you'd like to look younger, fresher, and more radiant, but you're not quite ready for a surgical intervention, a laser skin resurfacing procedure is worth investigating.
Advances in laser skin resurfacing mean you can experience a significant improvement in the appearance and texture of your skin without going anywhere near a scalpel.
But before you schedule a laser procedure, it's a good idea to think about the specific results you want. And, Southern Surgical Arts can best help make it a reality.
Why Southern Surgical Arts?
Arguably the most important decision you will ever make in regard to any surgical procedure is your choice of practice and surgeon. Laser skin resurfacing is no different. Dr. Carey Nease and Dr. Chad Deal are award-winning, board-certified cosmetic surgeons with thousands of laser skin resurfacing procedures to their credit.
Along with the extensive skill these surgeons bring to the table, they also have the tools to give you the results you desire.
There is an old saying, "When all you have is a hammer, everything looks like a nail." This is true in many cosmetic and plastic surgery practices, where the physician invests in one type of laser and uses it for every procedure.
Not so at Southern Surgical Arts.
Dr. Deal and Dr. Nease attend numerous conferences every year to determine which cutting-edge tools will bring their patients the best results. And then they invest in that technology—sparing no expense to bring the most state-of-the art equipment to their patients.
This means that for virtually every skin condition and patient request, there is a "gold standard" laser at Southern Surgical Arts.
Want smaller, tighter pores? You'll want to discuss an Erbium laser procedure with your cosmetic surgeon. The Erbium laser is also the gold standard for working with darker skin tones, reducing your risk of developing uneven pigmentation or keloid scars.
Would you like to eliminate visible capillaries from your nose or fade a port wine stain? A pulsed dye laser such as the VBeam is ideal to tackle this cosmetic procedure.
Want tighter, smoother skin but not ready for a full face lift? A CO2 laser is considered the industry leader for skin tightening and wrinkle reduction.
When it comes to new technology, our main concern is: What will provide the best results for our patients?
Not brand loyalty to a manufacturer.
Not using a laser that will provide "okay" results when there is a better, more specific technology available.
Not purchasing the most expensive tool simply to pass the cost along to our patients—you will find that we charge similar prices for procedures no matter which laser in our fleet is the best choice.
Patient safety and satisfaction will always be our focus.
In our next blog post, we'll talk about the difference between ablative and non-ablative laser skin resurfacing.
If you'd like to learn more about laser skin procedures in the meantime, please call us at 423-266-3331 for a complimentary personal consultation.