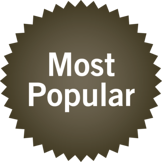 Since we started our blog in 2008, we've covered dozens of topics related to cosmetic surgery. When choosing our blog topics, we take into account the interests of our readers and patients, and target the issues for which we receive the most questions.
Scroll through some of our "greatest hits" posts below to see which of our articles have been the most popular since we started blogging!
The "Painless Breast Augmentation:" Separating Fact from Fiction
In this popular article from 2012, Dr. Deal debunks some rumors about the elusive "pain-free" breast augmentation. There are indeed truly effective medications to minimize and control pain, but you should be skeptical of any surgical procedure that is promised to be pain "free"—cosmetic or otherwise.
The Top 10 Cosmetic Surgery Procedures
Many of our readers enjoyed this look back at the most popular cosmetic procedures performed in the United States in 2011, including surgical and minimally-invasive procedures.
Using Laser Technology for Facial Lifts and Overall Rejuvenation
Learn about the benefits of laser-assisted cosmetic surgery, and why sometimes it might be a better option than surgery alone.
Dr. Oz and The Doctors Feature the Sciton Laser Used at Southern Surgical Arts
We were excited to see The Doctors and Dr. Oz feature the Sciton Laser on their popular TV shows. We (and our patients!) love our own Sciton laser for treating sun damage, unwanted hair, spider veins, acne scars and more.
Tummy Tucks Continue to Improve with Liposuction
Recent advances in cosmetic surgery have allowed cosmetic surgeons to perfect the art of the "tummy tuck," using surgery and liposuction to safely create a beautifully contoured belly and waistline in one surgery–something that would not have been possible just ten years ago.
We hope you enjoy this look back at some of our best blogs. Nearly six years since we began blogging, we're so glad to have this platform to interact with our clients. We look forward to many years to come!