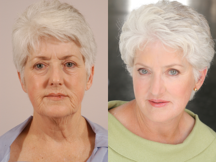 Q. IS THERE ANYTHING THAT A FACELIFT CANNOT FIX?
A. A traditional facelift treats the lower two-thirds of the face: the cheeks, jowls and neck. It will not improve areas of the upper face such as the brow or eye areas, which are better treated with a brow-lift. If you want a more youthful appearance overall, Dr. Nease can discuss a facelift along with different options for the eye and forehead area based on your goals during your consultation.
Q. ARE THERE ANY AGE RESTRICTIONS?
A. Though the majority of patients are in their 40's to 60's, a facelift can be performed at any age on a healthy patient.
Q. WHAT TYPE OF ANESTHESIA IS USED DURING FACELIFT SURGERY?
A. Most commonly IV sedation and local anesthesia are used.
Q. HOW LONG DOES THE PROCEDURE TAKE?
A. Facelifts generally require 2-3 hours to complete, though more extensive procedures may take longer if eye-lift and brow-lift procedures are performed at the same time.
Q. ARE THERE SCARS AFTER A FACELIFT?
A. There are scars but incisions tend to be hidden behind the ears and in the natural creases of the skin and are well camouflaged. You can often wear your hair up or short after a facelift without having to worry about scars.
Q. DOES IT HURT?
A. Though most patients only experience mild pain or discomfort, pain medication will be prescribed to help control any discomfort that you do experience.
Q. HOW LONG IS RECOVERY?
A. Patients can return to normal daily activities in about 7-14 days; but final results from the surgery can take 3-6 weeks.