Question. I have always had an extra "pooch" of fat on my pubic bone that I feel embarrassed and self-conscious about. After two kids, it's more prominent than ever, but now I've also got loose, saggy skin there. Is there anything you can do to make this area look better?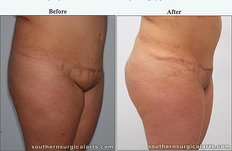 Answer: The "pooch" that you are referring to is the mons pubis, an area of fatty tissue located directly above the pubic bone. At Southern Surgical Arts we are often asked to make that area "look better." Some women feel that theirs is too plump or prominent, or that it bulges visibly through their clothes. Others want to have the area lifted due to sagging skin caused by childbirth or significant weight loss. Often our patients are unhappy with their mons pubis due to a combination of both issues: excess fat and loose skin.
If you are unhappy with your mons pubis area, you may be a candidate for a mons pubis lift. We suspect that the mons pubis lift is not more well-known because many women find the topic embarrassing. Please be assured that there is nothing unusual about wanting to have this area "beautified," especially after childbirth.
The procedure we will recommend to correct a mons pubis area depends specifically on the patient and the condition of their body. If there is a significant fat pad, we will recommend liposuction to remove the excess fat and create more attractive contours in the surrounding area. If loose, sagging skin is a problem, we will make a horizontal incision in the lower abdomen, in the same location a c-section or tummy tuck incision would be located. We will then remove excessive skin and lift and tighten the remaining skin. Generally, both liposuction and surgical excision are necessary to achieve the results the patient desires.
Because it is common to have excess fat and sagging in both the tummy and mons pubis after childbirth, many of our patients elect to have a tummy tuck procedure at the same time as the mons pubis lift. The incision is made in the same place for both procedures, so you will not have multiple incision scars. Additionally, the scar should be hidden by most styles of panties and bikini bottoms.
A combined mons pubis lift and tummy tuck is a surgery that requires a high degree of skill and artistry. You will want to choose a board-certified surgeon who has performed many of these procedures and who will share his "before and after photos" with you. Both Dr. Carey Nease and Dr. Chad Deal are multi-award-winning cosmetic surgeons who have performed hundreds of these procedures and who possess the surgical skill to achieve your goals.
If you would like to learn more about how a mons pubis lift can help beautify your body, please call Southern Surgical Arts at 423-266-3331 for your FREE personal consultation.