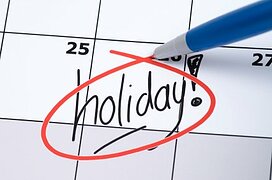 We all look forward to long holiday weekends, not only to reflect on important dates in our nation's history but also to recharge our batteries and come back to work refreshed. But have you ever thought about using that time to schedule your cosmetic procedure?
Right before a long holiday weekend is an ideal time to schedule certain cosmetic procedures so that you'll have time to recover without using up your valuable vacation time. After all, one of the benefits of time off is returning to work looking refreshed and rejuvenated—now you can look even more so.
Some of the best procedures to schedule prior to your next holiday weekend:
Liposuction (SmartLipo)—Target stubborn "trouble spots" like love handles and saddlebags with a liposuction procedure, in which your surgeon will remove excess fat using the latest laser technology.
Cellulite Reduction—Cellulite is one of the most common complaints we hear. Your cosmetic surgeon can recommend the best option based on your body composition, lifestyle, and desired results.
Laser Resurfacing—Whether you choose to have a light laser peel, such as the NanoLaserPeel or want the more dramatic results of a full laser resurfacing, you can use your holiday to get a headstart on healing. Side effects differ by procedure, but you can expect some mild reddening and peeling. (Some of your coworkers might return sporting a similar look from getting a sunburn, but any reddening you'll experience will be due to beautiful new skin being revealed).
Fillers and Botox—Smooth out sagging skin, diminish the look of fine lines, and gain a more youthful appearance overall with Botox injections or a filler treatment. We offer a variety of options for fillers at Southern Surgical Arts, including Juvederm, Sculptra, Radiesse, Voluma and Perlane. Your surgeon will determine which filler is right for you. Results of fillers can be instantaneous and can last for 6-12 months.
Breast augmentation—The breast augmentation remains one of our most popular procedures as it can make a dramatic impact on a woman's self-confidence for many years, and before a holiday weekend is an ideal time to do it so you'll have some "free" days to recover.
Dermapen/Mesopen—The "pens" produce stunning results, reducing fine lines, wrinkles and stretch marks, tightening sagging skin, shrinking pores, and creating a more even tone and texture overall. You will look well-rested and radiant after this "microneedling" procedure and will only experience mild reddening for about 24 hours.
IPL treatments—An "intense pulsed light" (IPL) treatment diminishes redness from broken capillaries, freckling, and age spots. Results are visible very quickly and the treatment is gentle and requires almost no downtime.
If you'd like to schedule one of these procedures prior to a holiday weekend, please give Southern Surgical Arts a call at 423-266-3331. After all, Thanksgiving and the Christmas holidays will be here before you know it!