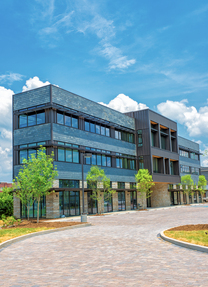 You may have noticed we took a brief blog vacation. (We missed you, too!)
We've been busy moving into our beautiful new location—a 25,000 square foot building in Chattanooga's South Side district downtown.
Our new office and surgery center features a medical spa and two state-of-the-art surgical suites. Just as we seek out new technological advancements to better serve our patients, we also upgrade our facilities when necessary.
Our practice has continued to grow, making it necessary to expand into this office suite, known as "Southside Station."
This new location is conveniently located one block off of Main Street, at 1405 Cowart Street.
We opened in this space last Monday and got right to work consulting with patients and other cosmetic procedures.
We are already hearing positive feedback about the beauty, convenience, comfort and professional appearance of our new office. Please let us know your thoughts when you come for your next procedure or spa appointment.
You're Invited! Southern Surgical Arts will be hosting a grand opening event on September 26th.
Watch out for more details about our upcoming event and special offers.
Thanks for your patience and encouragement as we made this transition. We are grateful to have the support of both our patients and the business community of downtown Chattanooga.
We'll get back to regular blogging business next week.
Share