Posted by Southern Surgical Arts on Jul 3, 2017 1:01:00 PM
As we age, it's common to lose volume in our faces as well as experience a decrease in the tautness of our skin. This loss in volume and increase in skin laxity causes the skin to droop, creating wrinkles, sagging jawlines and jowls as well as hollow cheeks and lower eye areas. With contributing factors like genetics, sun damage and smoking, this process may happen prematurely, leaving you looking older than your actual years.
Fortunately, cosmetic and facial plastic surgery has made incredible strides over the last decade, and these problems can now be addressed in a way that leaves you looking refreshed, rejuvenated, youthful, and most importantly of all—natural.
Many of our patients come to us already determined to have a face and neck lift, only to find out that there is more than one choice available. If you're considering having a lift, keep reading to learn more about your options.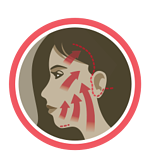 Cosmetic Face Lift. This is probably what most people think of when they hear the term "face lift." A cosmetic face lift is a full face lift in which your cosmetic or facial plastic surgeon will lift and remove excess skin from the neck and jawline, effectively removing jowls and any sagging in that area. A cosmetic face lift will restore volume loss in the cheekbone area and tighten the skin of the lateral brow and around the eyes. You will also have smoother skin with far less wrinkling as a result. A cosmetic face lift is a good option for you if you have significant volume loss and sagging in many areas of your face. You can expect a recovery time of 2-3 weeks, with some swelling and bruising being a normal expectation. You can also expect to look 10-15 years younger with this procedure.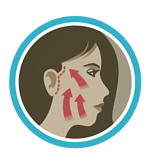 Revalift. In this mini face lift procedure, developed by our own Dr. Carey Nease, sagging and volume loss in the lower face and neck is addressed. This is an excellent option for women and men in their 40s and 50s, who are not quite ready for a full cosmetic face lift but desire tightening along the jawline, especially the jowls. A Revalift can also address laugh and marionette lines around the mouth. Because only the lower face is targeted, patients can expect less recovery time than with a cosmetic face lift—about 7-10 days back to normal activity.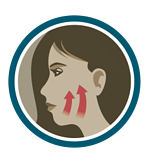 Laser Face Lift. Another option for someone who is not yet ready for a cosmetic face lift, the Laser Face Lift is a non-surgical, non-invasive method of tightening skin, removing blemishes and sun spots, and improving texture. Your cosmetic surgeon will use powerful lasers to target the deeper fat and muscle tissues beneath the skin to promote tightening, while also improving the surface of the skin. Recovery time for a laser face lift is three to five days, with some mild redness and swelling lasting up to a week.
Vampire FaceLift®. The Vampire FaceLift has gotten a lot of buzz recently, due to the remarks of several celebrities who have been impressed with the procedure, which is not exactly a face lift. This treatment got its moniker because the patient's own blood is harvested in order to extract the platelet-rich plasma. This fluid is then spun in a centrifuge, creating a highly-concentrated mix of platelets (referred to as Platelet-Rich Plasma or Platelet Rich Plasma) with much higher growth factors than normal, which will add volume, accelerate healing and rejuvenate the skin. Your cosmetic surgeon may then use them as part of a laser treatment, a microneedling procedure, or inject them directly into your skin. Your treatment will be customized according to the condition of your skin and your treatment goals. There is very little to no recovery time involved in a vampire facelift, depending on how the Platelet Rich Plasma is administered.
If you'd like to learn more about your face lift options, please call us at 423-266-3331 for a free personal consultation with Dr. Nease, a Triple Board-Certified Cosmetic and Facial Plastic Surgeon.